Aahh Christmas, after all the anticipation it's over in a flash, and we are left with a huge mess of toys, way too many cookies, and some cranky overly tired kids. But we all got a lot of stuff and we are lucky to live pretty close to our family, so the drives aren't too bad- although the 1.5hr drive to Mike's Grandma's is seriously the longest drive EVER! We did decide that next year on Christmas Day we will not go anywhere, it will just be the 4 of us at home. We have plenty of other days to see our family we need time together, where the kids can actually play with their presents and not have to rush to leave as soon as they are opened.


Christmas Eve we headed to Mike's parents, we all had a great time. Mike's brother had been visiting so Rowan had a great time- he loves his uncle's and has fun showing off (constantly :)).
Eli had a little trouble opening his presents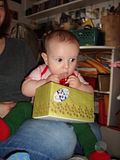 Of course Rowan, being the excellent big brother he is, offered to "help"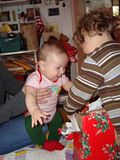 Rowan and Mike playing Rowan's new guitar- one of 2 he got!!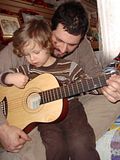 A cute pic of Eli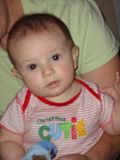 Christmas morning- Eli could hardly contain his excitement!!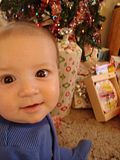 Rowan opening his Tinker Toys. Wen he started opening the top he said "It's oatmeal!!!"

Another present, that happened to be a box with postal tape on it, which he of course screamed"It's mail!!!" If only we knew we just needed to get him oatmeal and mail and he would've been happy!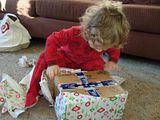 After we opened our presents Christmas morning we headed to Mike's grandma's house. I don't have any decent pics so won't post them. Rowan got the usual kind of stuff- tractors, cars... and a really nice school print quilt. ELi got a few little toys too and a fleece fire truck balnket (well it's just fabric, but I think I might make something with it.)

Friday we headed to my mom's for lunch with her and my sister. Both boys got a lot of nice stuff and Eli got some super cute clothes- including the red sweatshirt in his 6 month pics (coming soon.) Rowan painted pics for both grandparents and his aunt and uncle- that we saw-. They turned out great, I forgot to take a pic of the other two, but here are the ones he made my mom and my sister.
He was very proud of them, I bought some canvas' at the craft store so they can be hung up easily.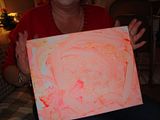 Eli lookin cute (with my sister)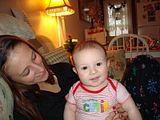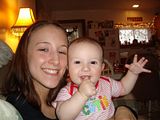 Of course we had to bust out the maracas and do some dancing (well Rowan did) and singing
but not too Christmas music....


to ABBA of course!