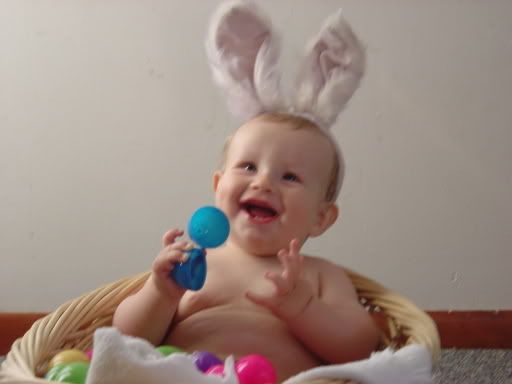 As if I needed to make it so obvious that the 2nd child DOES get treated different. The above picture- yeah, that's Rowan. Eli was lucky we remembered to take a picture of him sitting in the grass holding an egg... oh the memories he'll have!! He did seem pretty happy with his egg though, he also got to try watermelon and shortcake (don't worry it was homemade- remember preservatives=BAD!) ;)
Rowan got to have 2 different egg hunts today, he didn't really seem too concerned with getting a lot of eggs. But did still have a good time.

Those big eggs are hollow (so sad..)

getting 9 kids in a picture(6 were 5yrs and under) wasn't too hard
Above pics at Mike's family, then we headed for desert at my Aunt's and some more egg finding
Yeah we found eggs!!