I got a new sewing machine for christmas. Of course, I've only used it once and have been trying to knit again. It has put me in the mood to do some more crafty projects though and I have tons pinned on pinterest. Now I just have to actually do them!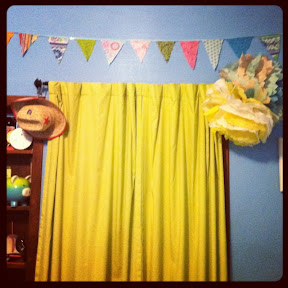 I made the banner above the boys window with my new machine. I love it and want to make more!
I knitted Eli a scarf! It's the first time I've actually followed a pattern and not messed it up! :)
I've been wanting to paint my boring white lampshades in our room for a while. I really wanted to use my paisly craft stamp on it but it didn't really work so I went with this. It's alright, I'll give it a few weeks to see if I can live with all the little mistakes or if I need to just buy new ones....