We let the boys draw "faces" on their pumpkins And then we attempt to carve them.
Rowan decided his should have 3 faces!
Eli's masterpiece!
Rowan side 1
Side 2
Side 3
Eli's carved pumpkin!
And mikes!
Eli was a rocketship and Rowan was a ghost!
After trick or treating we went to my moms church for games and cookie decorating!
Eli took one bite of his cookie and then walked away. I picked off the skittles (yuck!). And ate them :)
Rowan had no problem eating his!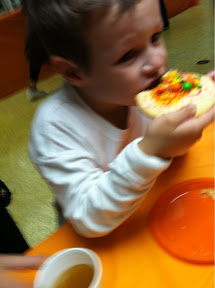 Then we headed home to check out the goods!