Last weekend we headed up to Michigan to spend sometime at the beach and visit some of Mike's family. We went last year to the same area for a wedding and had such a great time we decided it will be an annual trip for us. Luckily this year the weather was much warmer!
We stopped in Elkhart, IN to check out the RV Museum and hall of fame. Yes, that is a real place. Mike loves trailers and has been wanting to go there so we took a different route up so we could spend a few hours there. It was actually pretty neat, although I could have lived without smelling some of those really old trailers!
Mike was really excited!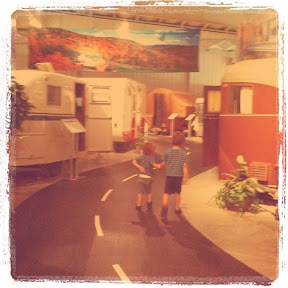 After the museum we headed to mikes aunts house a few hours away. We also got to hang out with a few of his cousins, of course I didn't take any pictures of that but it was nice to see them. Most of our time was spent at the beach. We'd head there after breakfast (free at the hotel!) and eat lunch there and snack and leave pretty late.
The boys love the beach! Eli wasn't too into the water but the giant sandbox kept him pretty happy! Rowan loves being on the water and especially the waves!!